B2B Travel Technology
We provide to our partners more simple and extremely efficient work flows. The reservation system is based on state of the art information technology which allows us to provide a variety of work flows.
We have built a modular, scalable and secure distribution technology platform that provides easy-to-use interfaces and delivers a superior user experience.
Its global resources, machine learning technology, big data and dynamic hedging and payment model, BookingEE.com provides global travel players with smart integrated solutions including real time inventory data, best buy rate, seamless multilingual customer service and diversified product portfolios.
Whether you are an OTA, a travel wholesaler, travel agency, or DMC, as a BookingEE Client, you can connect to the world's leading B2B travel Provider purchasing from BookingEE Smart Travel Network and gain access to expert technical support and latest technology.
Dynamic Packaging
Reservation Management
Global Language Library
Mobile Platform Availability
IP based Currency Module
MIS Reporting Module
Fare breakdown.
Cancellation policy tools.
Automated cancellation.
Mark up edit tools .
Create users, manage their roles, rights and passwords.
Map search tools.
Access to the multiple GDS feeds including low cost carriers.
Access to multiple worldwide hotels suppliers, chain hotels with lowest prices.
Access to multiple airport and station transportation companies at 4,800 major airport terminals and station.
Access to worldwide sightseeing suppliers, tourist attraction entrance ticket, daily tours in 143 countries.
Search, book, amend and print E-tickets & Vouchers in one single platform.
Agent's own identity on the booking engine (banner, logo on voucher).
No GDS knowledge requires.
Multi sign-in and roles available.
Own Booking management system.
IATA license not required.
Remarks / messaging system .
Booking history.
Credit line and usage history.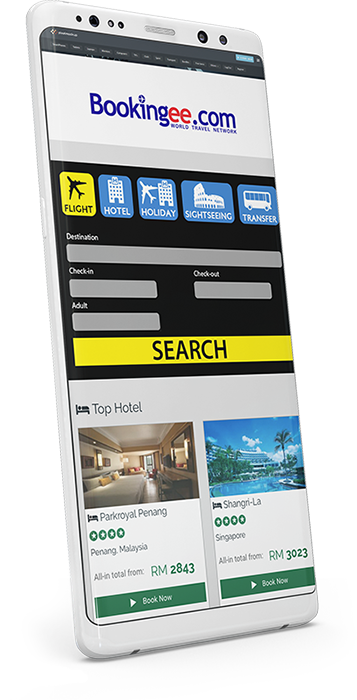 BookingEE
Mobile Solution
BookingEE mobile solutions for the travel industry offer a fully secured and fast access into a responsive and greatly designed website that drives incredible sales force from global web and mobile users which can search, book and manage their bookings anytime, anywhere and from any device.
The following mobile solution providing to the clients who using BookingEE B2C reservation system and booking engine license
BookingEE mobile friendly optimized website will give your customers access to the same features you have on your regular B2C travel website:

Available on any device (mobile, tablet, desktop)
Available on iPhone and Android
Search and book flight, hotel and holiday (hotel + flight package)
Online payment
Product static data (hotels details and images)
Select language and currency
Secure and fast access to bookings
*********
BookingEE Smart Travel Portal
Bookingee.com is a B2B travel portal that allows travel agents, tourism companies, wholesalers and tour operators to find air tickets and hotels around the world at competitive prices through single interface with a single click.
Bookingee.com B2B login access offers an intelligent search engine that automatically calculates the best price from more than 55 million global data points by combining the operations of multiple GDSs and 69 point of sales to covering 750 National carries and +165 low cost carriers, Additionally easy access to book +503,000 hotels worldwide mix of static, dynamic, exclusive local DMC's, Chains and third party contracting across thousands of destinations around the world at competitive B2B rates available in real time.
Beside, Bookingee.com B2B access offering private and shared airport transportation's from over than 26,000 world's major airports and also global sightseeing and excursion ticket reservation.
This method requires connecting using an username and a password by cutting edge technology and superior customer support to the Bookingee platform to access the available services. Regardless of product type or how you choose to work with us, the reservations are placed online in real time .
Diversified Product Service Standards
Offering clear and diversified product and service standards to meet your individual requirements. We clearly identify issuing times for the requested product, response times for rescheduling, and the corresponding minimum price. You can combine the travel requirements, select the product, the most affordable or with the fastest responsive service, and then complete the booking.
In this way, you will gain time and money by maximizing your human resources potential, that will be measured in the profit of your company.
Fast, Reliable and Complete Solutions
We provide complete solutions for pricing, booking and after-sales services. If clients are unable to board their flights, check in to their hotels, or experience other unforeseen circumstances, we will quickly resolve the problem and provide consistent service to customers.
User-Friendly Interface
BookingEE professional design team strives to improve your way of working. By using clear typeface, sizing and spacing, the design of the interface improves the way you work to increase efficiency. The platform admin panel helping you easily to manage your company user's, sub agencies, user roles, mark up your selling services and hide the pricing details from your vouchers. You can also upload your company details and logo for your issued vouchers.
No longer need the IATA certification to issue the flight tickets.
The BookingEE Portal displaying low-cost flights such as Easyjet, Vueling, RyanAir, Airasia, BlueAir and national carrier flights such as Emirates, Lufthansa, Airfrance, American airlines, British Airways and etc.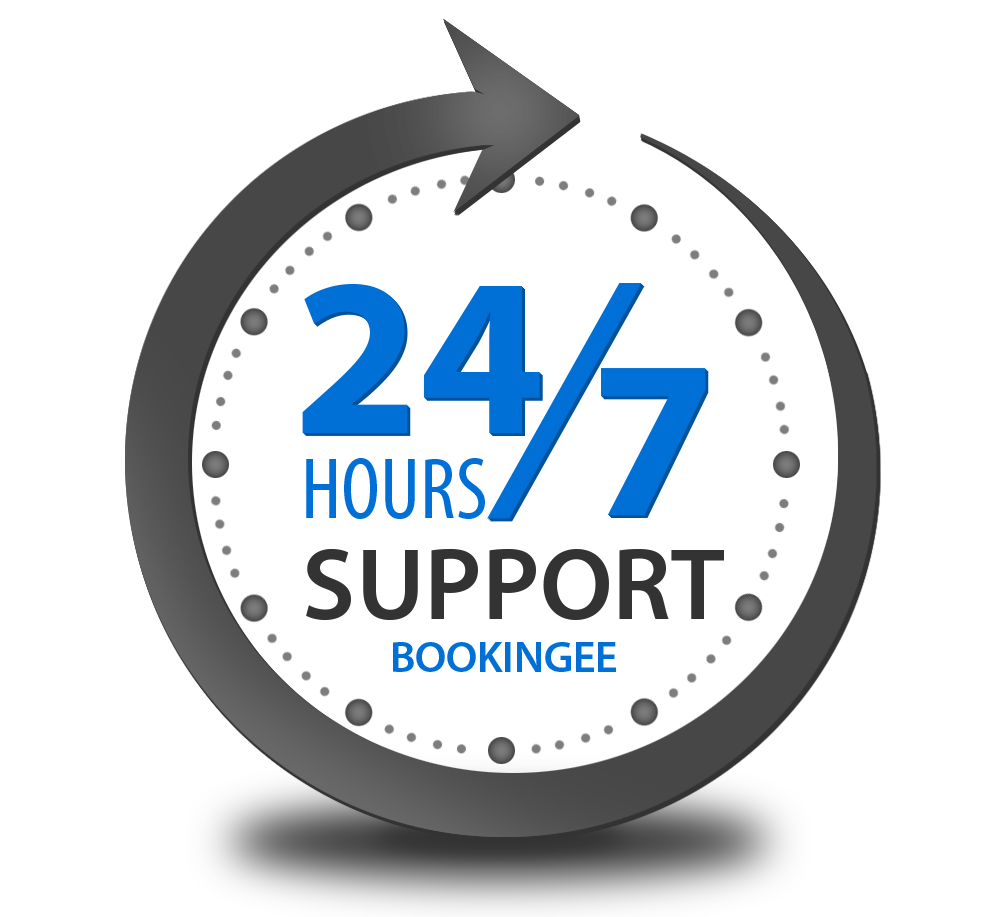 Submit for BookingEE B2B Access
Register now to get an access to Bookingee online reservation system.
****************
Online Airport Transfer Booking
B2B Online airport transfer for Worldwide Destination and all major Airports , cities and Hotel's.
In order for a global travel wholesaler to offer a complete travel service, it must also supply his customers with a comprehensive transfer service.
private & shared transfers
9000+ transfer options to get your customers trip off to a great start…
Offering choice is the key to staying ahead of the competition, so with this in mind Bookingee.com provide hassle-free and value for money private and shared transfer services.
Private transfers…
A private transfer adds an added sense of luxury to your client's stay – eliminating the stress of public transport to and from the airport is enough to put a smile on anybody's face!
We offer more than 26,000 standard and deluxe options in over 120 countries and 1,000 airport locations.
Shared transfers…
Even the most intrepid traveler will enjoy having one less thing to think about when they arrive at their destination, particularly after a long flight.
We offer more than 500 scheduled coach and minibus services from airports, railway stations and ports.
---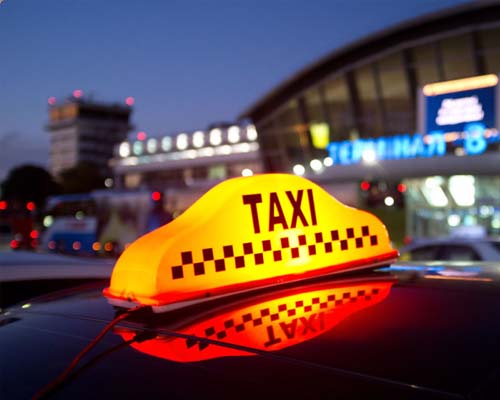 Our transfer service, available in many key destinations internationally, is both modern and comfortable. We offer transfers to/from the airport or train station by car, mini-bus or coach in a wide variety of types such as shuttle, private or vip transfers with flexible options including one way, return or multi-trip.
Why choose a Bookingee.com Private or Shared transfer?
Booking is simple!
Comprehensive search results – from service descriptions, meeting point maps, and passenger and luggage capacity to drop off points, departure schedules and transfer times
Streamline your booking process – search and book transfers alongside hotels, apartments and sightseeing
Increase your overall service provision to your client
Create additional revenue opportunities for you and your business
---
Safe and never late, Our shared or private transfers offer the greatest comfort at the best price.